Coming soon. Visit this page again soon for updates for design and craft workshops mixing with mindfulness.
Time has now come to unveil a series of workshops starting from April 2016.
To book, call me on 07782506285 or email me at hello@gaellebythesea.com
Paypal payments accepted.
Pour réserver , appelez-moi sur 07782506285 ou écrivez-moi à hello@gaellebythesea.com. 
Les paiements par Paypal sont acceptés.
Workshops will be delivered from my home in Truro, in Cornwall. Whether you are on holiday in Cornwall and discovering our beautiful region or simply want to learn new skills, here is a selection of workshops.
Des ateliers seront livrés chez moi à Truro, en Cornouailles . Que vous soyez en vacances en Cornouailles pour découvrir notre belle région ou simplement pour apprendre de nouvelles compétences , voici une sélection d'ateliers .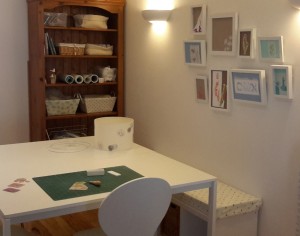 Please bear in mind that bookings need to be made and confirmed at least 24 hours in advance so that I can have everything ready and always know how many supplies I will need. At the time of the booking I will let you know where the nearest car parks and free spaces are, a short walking distance away. I am in the city centre so this is an ideal location to add a spot of shopping or even tasting the great food we have in town.
S'il vous plaît garder à l'esprit que les réservations doivent être faites et confirmées au moins 24 heures à l'avance afin que je puisse avoir tout préparré et toujours avoir suffisament de matériaux . Au moment de la réservation , je vous dirai où sont  les parkings les plus proches et des espaces gratuits, dans les proches environs. Je suis dans le centre-ville , donc c'est un endroit idéal pour faire un peu de shopping ou même goûter la nourriture délicieuse que nous avons dans notre ville.
All workshops can be delivered in English and French. Please note that all dates are given as information only. If you would like to book one of the given sessions but change the content to one of the other workshops, I will be happy to accommodate if that slot is still available.
Tous les ateliers peuvent être délivrés en anglais et en français. S'il vous plaît notez que toutes les dates sont données à titre d'information seulement . Si vous souhaitez réserver l'une des sessions données mais modifier le contenu pour l'un des autres ateliers , je serai heureuse de faire cette modification si cette classe est toujours disponible.
(All dates are subject to confirmation and may be changed so always contact me in advance to confirm your interest. If you require another date, please call me on 07782506285 to discuss. If I am free I will be happy to accommodate)
(Toutes les dates sont sujet à confirmation et peuvent être modifiées. Il est recommendé de toujours me contacter à l'avance pour confirmer votre intérêt . Si vous avez besoin d' une autre date , s'il vous plaît, appelez-moi au 07782506285 pour en discuter . Si je suis libre, je serai heureuse de créer une nouvelle leçon)
Lampshade workshops
Length: 2 hrs £35
Dates: By appointment
Discovering a new place or region is always great but what about bringing back something you have made?
This lampshade workshop will allow you to make a contemporary drum lampshade from scratch. A kit will be provided.
Lampshade Assembled Size:30 cm Diameter x 21 cm High. No previous experience necessary. Bring your own light weight fabric 1 meter long by 50 cm high. We have wonderful fabric shops in our region so you can explore our treasures. Alternatively you can bring your own.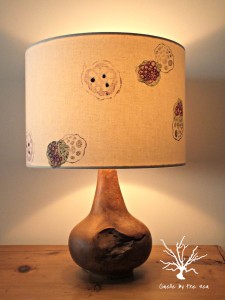 Longueur: 2 hrs
£35
La découverte d'un nouveau lieu ou d'une région est toujours très bien, mais qu'en est-il de ramener quelque chose que vous avez créé?
Cet atelier de création d'abat-jour vous permettra de créer un abat-jour tambour contemporain à partir de zéro . Un kit sera fourni .
Taille assemblée: 30cm Diamètre x 21 cm haut . Aucune expérience nécessaire. Apportez du tissu léger 1m de long x 50cm de haut.
Nous avons des magasins de tissus merveilleux dans notre région afin que vous puissiez explorer nos trésors . Sinon, vous pouvez apporter le votre .
Linocut workshops
Length: 2 hrs
£25
Dates: By appointment
Linocut workshops suitable for all ages, beginners, intermediate and advanced.
Carving lino stamps is a gentle but addictive craft. Beautifully adaptable, this media allows you to create unique stamps. Come and learn how to transform an idea into a stamp. Themes will vary.  Examples will be provided but you can bring your own design or inspiration.
Durée: 2 h
£25
Atelier de linogravure pour tous les âges , débutants , intermédiaires et avancés .
Sculpture timbres lino est un artisanat doux mais addictif. Magnifiquement adaptable, ce média vous permet de créer des timbres uniques . Venez apprendre comment transformer une idée en un timbre . Thèmes varient . Des examples seront fournis, mais vous pouvez apporter votre design ou inspiration personnelle.
Linocut and lampshade combo workshops
Length: 4.30 hrs with a 45 minutes lunch (lunch not included). end time may vary if extra time is needed to finish of the lampshade assembly
£60
Dates: By appointment
This is a session where you will explore creating a linocut pattern for fabric making which you can then use on a drum lampshade. For this one, please bring in a 1 meter square piece of fabric to print on. Neutral cotton calico for example is lovely to work with. Also bring images to work from or maybe the sketches of a design you have in mind. All materials (lampshade kit, tracing and drawing papers, paints etc… will be provided).
Lampshade Assembled Size: 30 cm Diameter x 21 cm High. No previous experience necessary.
Ceci est une session où vous allez explorer la création d'un modèle de linogravure pour le tissu de décision que vous pouvez ensuite utiliser sur un abat-jour tambour. Pour celui-ci , s'il vous plaît apporter un morceau carré d' 1 metre de tissu pour l'impression. calicot de coton neutre par exemple, est très agréable de travailler avec . Apportez également des images à travailler à partir de ou peut-être les esquisses d'un design que vous avez à l'esprit . Tous les matériaux (kit abat-jour , Papiers de traçage et de  de dessin , peintures , etc … seront fournis ) .  
Dimensions  de l'abat-jour: 30 cm x Diamètre 21 cm de haut . Aucune expérience nécessaire.